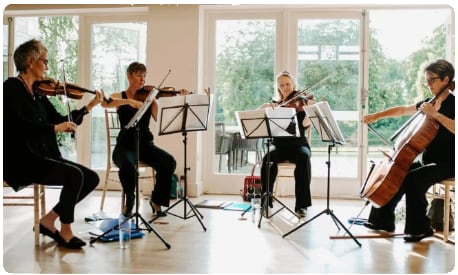 Image by JCG Photos www.jcgphotos.com
The Minerva String Quartet
"Thank you for playing at our wedding. It really added something special & all the guests loved the inclusion of the James Bond theme and Disney tunes during the signing of the register" (Paul and Chloe Banks)
Hear The Minerva String Quartet Playing Live
View our repertoire here
.
Weddings
Live music has an immediacy and clarity that pre-recorded music cannot offer. The visual and aural impact of a quality string quartet can add an extra touch of class to your special day.

We appreciate the importance of flexibility and can play for the ceremony, pre-reception drinks and/or the wedding breakfast. We are happy to discuss your music requirements for your wedding and if you scroll to the bottom of the page and fill in the form with your details, we shall respond as soon as possible. In the meantime, you may find that our FAQs page answers most of your initial questions.

The Ceremony
We can provide live music as your guests arrive - fifteen minutes before the ceremony begins is usually sufficient, but you may wish to have us playing for longer if your guests are arriving early from some distance. We arrive at the venue at least thirty minutes before we are scheduled to play and do not charge for this setting-up time.
Suggestions of pieces from our repertoire for the ceremony are as follows:
Processional
Handel
Arrival of the Queen of Sheba
Air (from Water Music Suite in F)
Pachelbel
Canon
Purcell
Trumpet Tune
Wagner
Wedding March
Signing of the Register
Bach
Air on the G String
Delibes
Flower Duet (from Lakme)
Elgar
Salut d'Amour
Chanson de Matin
Shostakovich
Romance
Vivaldi
Winter (from The Four Seasons)
Recessional
Bach
Brandenburg Concerto No. 3
Handel

La Rejouissance (from Music for the Royal Fireworks)
Hornpipe (from Water Music Suite in D)
Arrival of the Queen of Sheba

Mendelssohn
Wedding March
Vivaldi
Spring (from The Four Seasons)
These are the more traditional choices, but please don't feel restricted by them. We often play more unusual pieces (particularly for the Recessional), including 'Let's Do It', 'Wonderful World' and even the 'James Bond' theme!
Our full repertoire list
is available in the form of a
PDF document
.
Photographs / Pre-Reception Drinks
The quartet is able to move from one room to another easily, so we can relocate quickly after the ceremony to wherever the drinks/photographs are taking place. Weather permitting we are happy to play outside provided we have shade for the protection of our instruments.
Wedding Breakfast
The quartet can provide a live music backdrop for you and your guests during the line-up and your wedding breakfast. We can also play a special piece for your entrance into the dining room.
After the Wedding Breakfast
We can provide music for you after the wedding breakfast. A string quartet can be an ideal alternative for the evening if you are not planning to have a band or disco. Our varied repertoire should ensure we play something to everyone's taste.
To contact us, fill in the form below or email